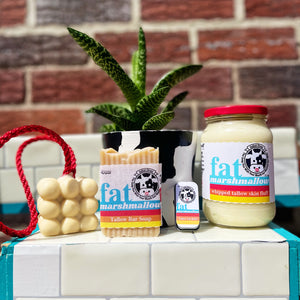 Want it all?? 
Scoop your very own fat marshmallow fat pack for $65 and receive:
1 fat marshmallow lip balm tin
1 fat marshmallow 4 oz bar soap
1 fat marshmallow whipped tallow skin fluff
1 fat marshmallow shampoo/shave bar OR soap on rope
1 glass dipping spoon made from upcycled glass by Remark Glass (to make reaching the bottom of your jar of fluff a breeze!)
Thats a savings of $15.00!
We are now offering an option to add a compostable "cooler" box (insulated thermal panels) to your order. When paired with ice packs (which we will include) these packs will help keep the contents cool for 48 hours.
WE STRONGLY SUGGEST CHOOSING THIS OPTION.

 
Up to 4 jars of
 

fat marshmallow fluff 
will fit into each cooler box. You can see the options in the drop down menu for number of jars you would like to purchase, and you will also see that we have applied discounts to multiple jar selections when choosing the cooler box option. 
*
As these thermal & ice packs only keep contents cool for approximately 48 hours we suggest choosing an appropriate shipping option at checkout - the default is always the least expensive, but we suggest you choose the option that will get you your package in 2 days or less. We cannot guarantee that your fluff will remain solid even when choosing all of the best options! Delivery trucks and warehouses get HOT!!

*
If you have any questions or need assistance, please reach out prior to placing your order if possible so we can assist you in making the best decision for the best dang whipped tallow your skin ever will feel! Depending on the size of your order, the cooler pack may ship separately from the rest of your order. 

*
While melting will not effect the efficacy of your jar of fat marshmallow fluff, it will effect the texture. If it does melt, you can pop it in the fridge to firm it up.
*

fat marshmallow

 is the ultimate
gentle & moisturizing bar soap! Biocompatable grass fed tallow, infused with real vanilla bean and marshmallow root, with a touch of honey and arrow root- thats it! Its a treat your skin won't forget and your mouth may be a little jealous of! Slather it on, but try not to lick it off!
*

If you've been with us long, you already know the incredible benefits of using the right kind of fat for your skin i.e.tallow (if you're new here, welcome! Go check out the "WHY TALLOW" tab!), so now lets talk about marshmallow root! The marshmallow plant has been used in herbal medicine for centuries, and is native to Northern Africa and Eastern Europe, and grows throughout North America, Marshmallow root has been cherished in skincare for just as long, providing instant hydration, while it continuously works to improve the skin's ability to retain moisture, and has been shown to have anti-inflammatory benefits. It also contains a naturally occuring botanical form of hyaluronic acid that can firm the skin and increase moisture levels. This comes from a thick, gum-like substance called mucilage within the root.
*
Just as much thought went into the look of fat marshmallow as it did into the ingredients and formulation. Retro food packaging is a design DREAM & the marshmallow fluff jars are iconic AF. If you knew Vellum St founder and former chef Melissa Torre in the Cookie Confidential days, you know her cupcake line, Undercover Cupcake, came exclusively in jelly jars with red lids, with a fluffy cream cheese frosting piped in thick layers above, below & in between the cakes.

 

fat marshmallow

 

is a nod in part to those two tasty treats, but done Vellum style, for your skin!
Free domestic shipping/local delivery on orders over $75