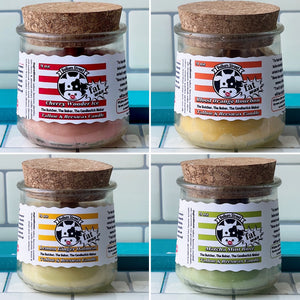 Time to burn some trash without burning a whole in your wallet!! 
To celebrate our mini candles, take advantage of our Mini Candle Flight and get FOUR 4 oz mini candles for $80! That's over 100 hours of good smelling, trash burning, low tox living, relaxing wick crackling candle goodness, at an over 30% savings! 
Enter your scent selection under "notes" at checkout! Otherwise, we will pick a selection for you.
The butcher, the baker, the candlestick maker...we don't think there's a product on the market that comes closer to bringing these three together! What you breath IN is just as important as what you put ON your skin or IN your mouth. Tallow & beeswax burn clean, as do our standard Wooden Wicks (which come with the audible bonus of a relaxing crackle). Scented with essential oils & colored with plants & clays, our candles can safely be used for aromatherapy or massage. As with all of our products, we source many ingredients and components from area restaurants, farms, and butcher shops, saving them from waste bins and trash streams. For best results, trim wick to ⅛" before burning & allow melt pool to extend to edges before extinguishing, especially on the initial burn. Never burn candle unattended, or on uneven or flammable surfaces.
*As always, made with the best dang skin loving, grass fed, local tallow we could find
*All of our jars are cut and polished locally by Remark glass, from discarded bottles
Free domestic shipping/local delivery on orders over $75