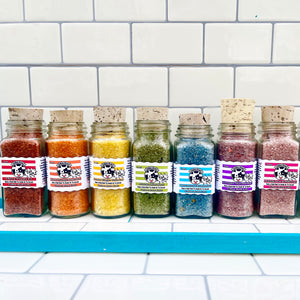 ROYGBIV SALT SATCHELS are here! Normally $8 a jar, you can grab this lucky bag of 7 mini salts for only $45!! Thats a savings of over $10!
An upcycled rainbow of skin loving tallow epsom salts, in an array of botanically derived colors & scents, in a reusable muslin bag (which makes for a GREAT washcloth pouch) , delivered directly to your door to help clean & brighten up your day! Great for travel, guest rooms, facial routines,  bath time, party favors, or just a fun and convenient way to sample an array of our scents! Lips, hands, face, or ass, tallow's great for skin when it's been fed grass!
Rub-a-dub-dub, the ultimate scrub & soak in the tub! Locally minded, sustainably focused & chef made, we source many otherwise discarded, food grade ingredients from area restaurants & farms, seeing their value & saving them from waste bins. Starting with biocompatable grass fed tallow, our bath salts are gentle enough for light use on the face, effective enough to scrub away rough spots, & powerful enough for a muscle relieving soak, with a touch of tallow to keep your skin moisturized! So go ahead & get salty!
As a scrub, shake small amount into your palm scrub away. As a soak, add a few tablespoons under running water. Or combine the two & scrub IN the tub while allowing the excess salt to melt in the bath water for a magnesium rich soak!

Bath salts come in two sizes for your scrubbing and soaking pleasure! 2 oz mini jar will be good for 1-2 baths, and comes in an upcycled spice jar, while our 10 oz full jar comes in an upcycled kombucha bottle, and will provide 5-10 baths. 

 Please note that due to the plant based & clay colorants we use, there is a chance of staining if you have a porous tub. Please spot test before soaking!
*As always, made with the best dang skin loving, grass fed, local tallow we could find, and all glass 100% second use, upcycled by non-profit Bottle Underground & returnable for reuse
Free domestic shipping/local delivery on orders over $75
INGREDIENTS: 
Cherry Wooder Ice: Epsom & pink Himalayan salts, tallow, red sandalwood, alkanet, madder root, corn silk, tart cherry & almond extract, vanilla absolute, St John's Wort, cherry wood, cherry blossom 
Blood Orange Bourbon:  Epsom/Dead/pink Himalayan sea salts, tallow, turmeric, paprika, annatto, corn silk, essential oils (bergamot, patchouli, cedar, clove, vetiver)
Lemon Ginger Oatmeal:  Epsom/Dead/pink Himalayan sea salts, tallow, oats, turmeric, essential oils (lemon, ginger)
Matcha Mint Rose:  Epsom & pink Himalayan salts, tallow, essential oils (spearmint, rose geranium), rose absolute, calendula, spinach, matcha, rose petals, spearmint leaves
Rosemary Chamomile: Epsom & pink Himalayan salts, tallow, essential oils (rosemary, German chamomile), vanilla absolute, calendula, rosemary, chamomile, potato peel, indigo
Lavender Marshmallow:  Epsom & pink Himalayan salts, tallow, essential (Bulgarian lavender), calendula. alkanet, dried lavender, marshmallow root
Prickly Pear & Hibiscus:  Epsom & pink Himalayan salts, tallow, essential (tea tree, lime, coriander), calendula, hibiscus, prickly pear (dried & oil), rose kaolin clay
Campfire:  Epsom & pink Himalayan salts, tallow, essential (fir needle, birch tar, cedar), calendula, smoked sea salt, activated charcoal, fir needles, birch bark, white oak